Join/Renew your membership!

If you think that 80-20 is doing a good job and want to help it grow, be a member.
You can become a member today and quickly pay by credit card.

If you are not certain whether you are still a member, click HERE to check your membership status.
Mailing list subscribers: Please place AsianAmericanUnity@80-20.us, sbw@80-20.us, and sbwEF@80-20.us into your Address Book.
---
Highlights
Video: 80-20 on CNN's Anderson Cooper 360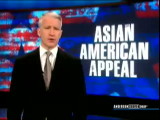 ---
What 80-20 does for YOU!
S.B. Woo tells you about 80-20 in 5 minutes through moving music and pictures.