Established Chapters

These chapters have both the bylaws already approved by the National Board and at least 25 members in good standing.
Ohio - 2 chapters
80-20 Michigan (Southeast)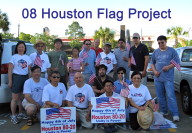 Houston 80-20 planting flags in China Town
in celebration of July 4th, 2008.

Chapters In Title

Chapters whose bylaws have not been approved, and which haven't demonstrated that they each has at least 25 members: Los Angeles chapter. This "chapter" existed prior to the existence of 80-20 National bylaws. It also contributed greatly to 80-20 in its earlier days. It is still referred to as a "chapter" although without the full privileges. Hopefully, 80-20 may celebrate its return to full status very soon


Pending Chapters

These chapters' bylaws have not been approved by the National Board.
---
Citizens for Better Community (CBC), Fremont, CA
Chinese Political Action Community (CPAC), Sacramento, CA
Chinese from Vietnam, Cambodia and Laos, San Francisco, CA
Silicon Valley Voters Education (SVVE), San Jose, CA
What is being a "Friend" of 80-20 all about?
(1) A potential "80-20 Friend" (henceforth using simply "Friend") must formally approve the 4 items stated in the "Declaration On Presidential Election of 2000, issued by 80-20." The 4 items are appended below.
a) 80-20 has the obligation of keeping members of its "Friends" informed of its political vision and actions through e-mail. While the "Friends" are keenly interested in 80-20 's political views and actions, organizational concurrence is not implied. Decision is left to individual members of "Friends".

b) Friends will acquire e-mail addresses from their members, get their concurrence to be on 80-20 's mail list, and send the addresses to 80-20. After an organization has provided 50 e-mail addresses to 80-20, it becomes a "Friend".

c) 80-20 and "Friends" will link up in websites, if possible.

d) Neither organization speaks for the other. Neither organization is responsible for actions of the other.

e) A "Friend" must have existed as an independent organization for at least one year prior to forming such a relationship with 80-20.

f) A "Friend" must make all efforts to make 80-20's political endorsement known to its members, though organizational concurrence is not implied.

g) The relationship of "Friends" can be terminated, without cause, upon written notice by either party one month in advance.
**80-20 is a Political Action Committee that will endorse a presidential candidate. Organizations with 501 C-3 status may want to be careful before before becoming a "Friend" of 80-20 to safeguard their tax status. On the other hand, the enforcement of the 501 C-3 requirement "to not engage in political activities" is very lax. NAACP and AAUP (American Association of University Professors) are both well-known 501 C-3 organizations. Its chapters endorse political candidates often. NAACP chapters almost always endorse political candidates. Their endorsement are often announced in newspapers. That is, IRS has concrete evidence of NAACPs blatant violation of the tax code, should it desire to pursue the matter. To our best knowledge, IRS has not attempted to revoke NAACP or AAUPs tax-exempt status. It will seem most strange that IRS will go after a "Friend" of 80-20 that clearly notes that 80-20 does not speak for it (See d) above), while leaving the blatant violation of NAACP and AAUP alone. Also note that the 6 articles above are carefully worded to show that the relationship of "Friend" is formed on the premises of civil rights and political education.
APPENDIX: Excerpts from "Declaration"
"Therefore, we, the Asian American citizens, declare that the time has come for all presidential candidates to commit themselves to the following to realize the ideal of equal opportunity for all
Americans:
If elected, will direct his/her cabinet officers to work with Congress in holding public hearings regarding the validity of the huge amount of statistical data strongly suggesting discriminatory practices against Asian Americans in workplaces today,
If the data were shown valid, will issue a public statement to reaffirm your Administration's intention to vigorously prosecute all cases of racial discrimination against Asian Americans in the
workplace,
If the data were shown valid, will work to induce the lifting of the glass-ceilings so that Asian Americans will be well on our way to equal opportunity to "rise to the top" within the first term, and
If elected, will give due recognition to the services and talents of Asian Americans by appointing qualified persons to policy-making Positions in the Judicial and Executive branches of the federal
government, possibly including a historic first cabinet position. The number of appointments will represent a significant improvement upon the current drastic under-utilization of Asian Americans."